Apple Homepod - Wireless Bluetooth Speaker
Key Features
Apple-Designed Woofer
Array of Seven Beamforming Tweeters
Six-Microphone Array for Far-Field Voice
Siri-Enabled Intelligent Assistant
The Apple HomePod is a breakthrough speaker that adapts to its location and delivers high-fidelity audio wherever it's playing. Together with Apple Music and Siri, it creates an entirely new way for you to discover and interact with music at home. And it can help you and your whole family with everyday tasks and control your smart home all with just your voice.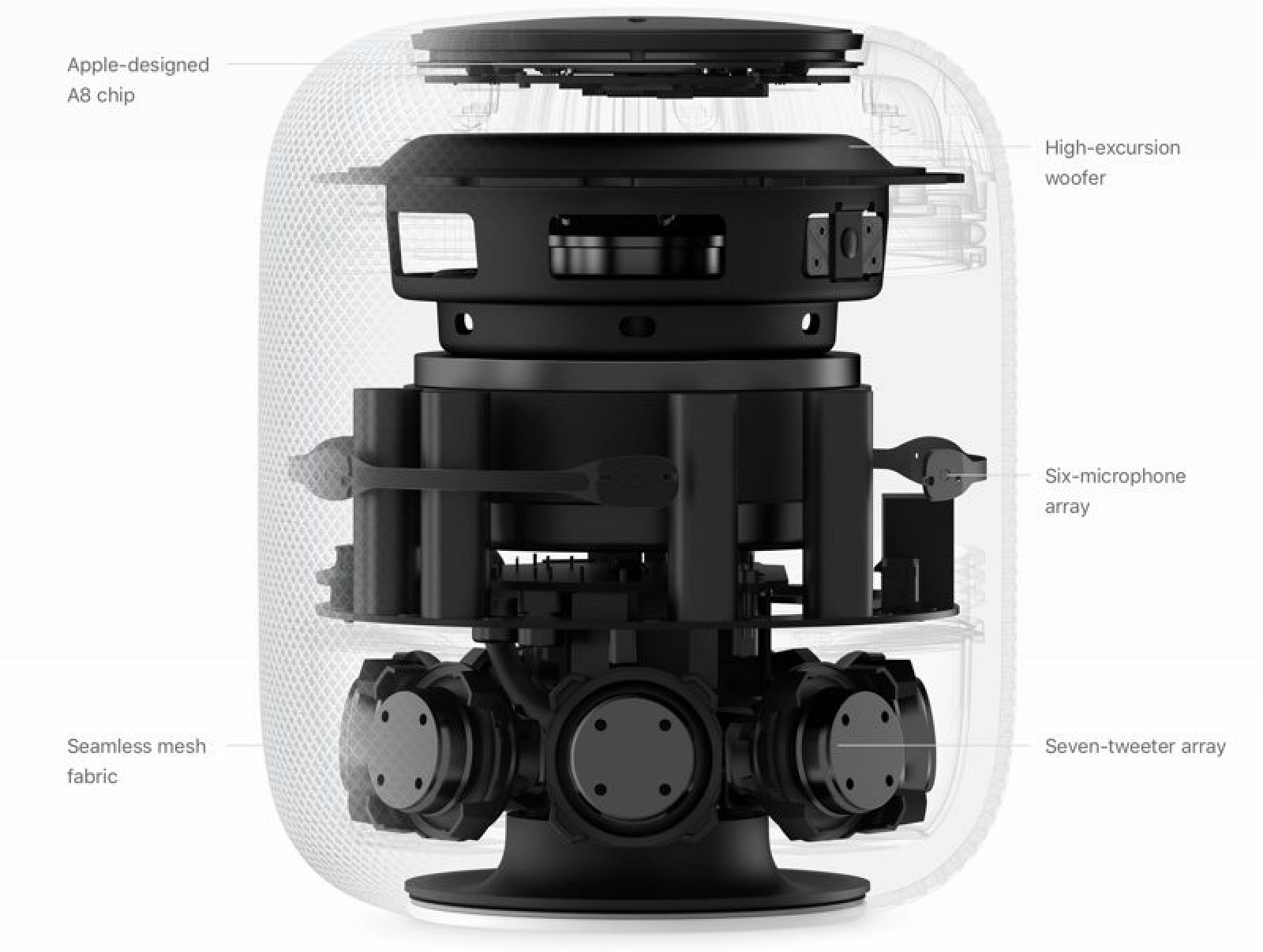 APPLE HOME POD FEATURES
Dimensions:
6.8 inches high (172 mm)
5.6 inches wide (142 mm)
Weight:
5.5 pounds (2.5 kg)
Color:
Space Gray
White
Audio Technology
High-excursion woofer with custom amplifier
Array of seven horn-loaded tweeters, each with its own custom amplifier
Six-microphone array for far-field Siri
Internal low-frequency calibration microphone for automatic bass correction
Direct and ambient audio beamforming
Transparent studio-level dynamic processing
Stereo pair capable
Audio Sources
Apple Music
iTunes music purchases
iCloud Music Library with an Apple Music or iTunes Match subscription
Beats 1 live radio
Beats 1 live episodes on demand
Apple Podcasts
AirPlay other content to Apple HomePod from iPhone, iPad, iPod touch, Apple TV, or MacDocumentatio
Touch Surface
Tap or hold + or – for volume up/down
Touch and hold for Siri
Tap to play/pause music or Siri
Double-tap to skip
Triple-tap to skip back
OVERVIEW
Major sound, minor scale
This purposefully designed speaker creates rich, nuanced sound that defies its size,the HomePod combines custom Apple-engineered audio technology and advanced software to deliver precision sound that fills the room. And at just under seven inches tall, HomePod fits anywhere in your home.
  Deep bass with range you can feel
The Apple-designed high-excursion woofer is positioned at the top of the speaker facing upward, creating a wide range of deep bass that surpasses any traditional speaker. A six-microphone array, along with an internal bass-EQ microphone, analyzes and compensates for the effect of the room on the bass response, providing rich, consistent sound. And a powerful motor drives the diaphragm a remarkable 20 mm, so the bass shines through even when the volume is low.
Far and away an incredible listener.
Six microphones positioned around HomePod allows it to pick up all the sound in a room so that When you say "Hey Siri," the advanced signal processing, together with echo and noise cancellation, allows the Apple HomePod to hear you without the need to raise your voice even if you're across the room with loud music playing. After the Apple HomePod recognizes the words "Hey Siri," what you say is encrypted and sent anonymously to Apple servers without being tied to your Apple ID.
The biggest brain ever in a speaker.
The Apple-designed A8 chip orchestrates all the remarkable audio innovations inside the Apple HomePod Like advanced signal processing so Siri can hear you over the music, Real-time studio-level processing that maximizes the bass while minimizing distortion and Buffering that's even faster than real time and upmixing of both direct and ambient audio. You get amazing sound, every single time.
Designed to be seen and heard.
The Apple HomePod is wrapped in a seamless mesh fabric designed for aesthetics and acoustic performance which are available in white and space gray, it's gorgeous from every angle yet virtually transparent to the sound waves passing through it.
KNOW HOW TO WORK A ROOM AUTOMATICALLY
Setting up the Apple HomePod is quick and magical. Simply plug it in and your iOS or iPadOS device will detect it. Equipped with spatial awarenessn the  HomePod automatically tunes itself to give you optimal sound wherever it's placed. Pair it with a second Apple HomePod to create an unmatched stereo experience and bring multiroom audio to your whole home with AirPlay 2.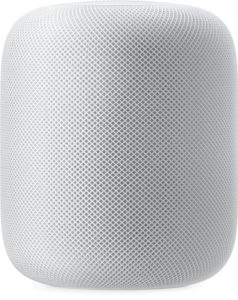 SYSTEM REQUIREMENTS
iPhone 5s or later, iPad Pro, iPad (5th generation or later), iPad Air or later, iPad mini 2 or later, or iPod touch (6th generation) with iOS 12 or later
802.11 Wi-Fi Internet access
Apple Music subscription for full music functionality